Started off like every other morning of the last few days – Torrential rain, thunder and accompanying lightning. Little did I know that it was about to be an eventful morning. Great weather; Saturday morning, no rush to go anywhere, so hey! Here I was, rolling from side to side on my bed enjoying the weather.
Next thing I heard from my deep sleep was, Samuel! Samuel! There is water coming in! (I had a friend staying over)  I was startled – this friend of mine has the tendency to be dramatic. I jumped up, and voila! Water was flowing in on to the rug. I assumed the driving rain got into my balcony, and all I needed to do was scoop it out. I opened my door, and to my surprise, my compound had the similitude of a lagoon. Opening the door made inflow of water faster, and in the space of less than 5 minutes the house filled up quickly. It was a race against time to get the bed, sofa, electronics, laptops et.al off the floor.
Curious as to how my compound got flooded, knowing very well it's one of the highest points on my street. Getting out to my street, the drainage was all filled, culvert covered, with knee depth water flowing at a measured pace – The supposed highest point on my street. I wonder how deep the water was on the lower end of the street. I buzz my friends, checked on twitter only to realize it wasn't just my street, it was wide spread flooding. Well, I wasn't going to lose on both ends and let this opportunity go to waste. I left with an umbrella and my camera to document the flooding.
Half my concern out there was to ensure that I didn't fall into an open drainage or get my camera wet. Surprisingly, people were excited that there was a photographer to document the flooding. I heard comments like, "Abeg make sure say Ambode see the picture oo", "Oga carry on, snap everything". The other thing that baffled me was the seeming hatred for Lekki people on the street. The sense of joy, that finally, the Lekki people are getting what is due them.
Of all the images I took, this one struck me. "We see it, We feel it, We love it…LAGOS!" Such a paradox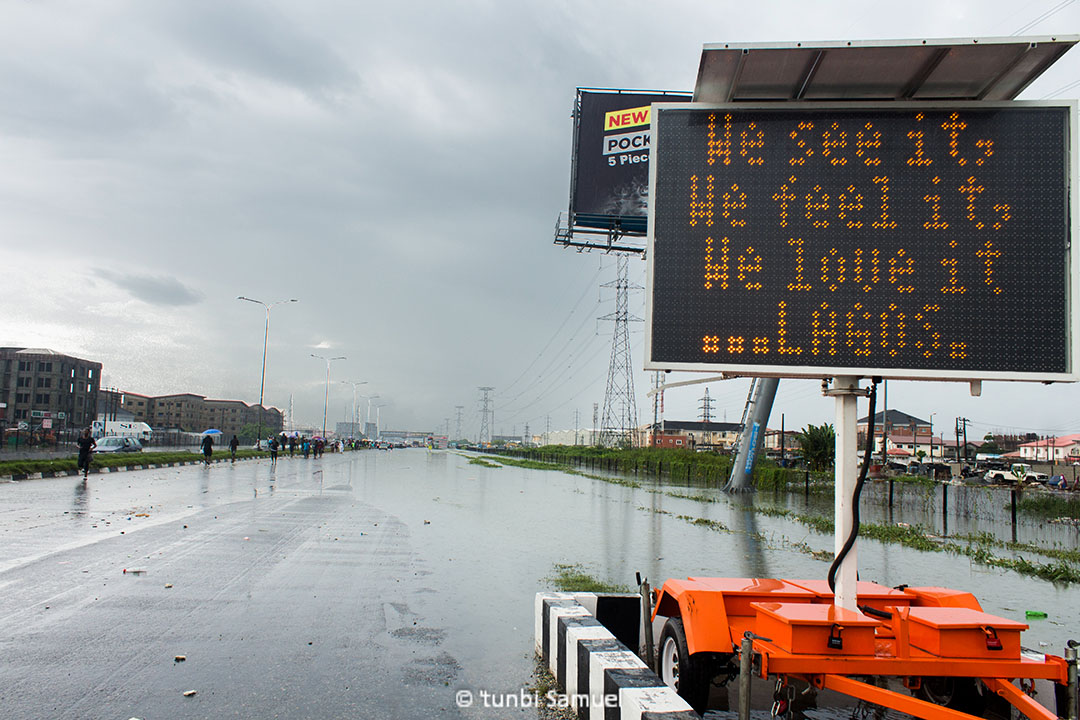 Three Women braving the odds to earn a living. While some have a choice of resting and staying indoors…some can't afford that luxury.